Average White Band & Tower of Power - Keswick Theater, Glenside, PA, 3/5/05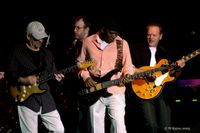 AWB
For fans of either of these two fine bands or of soul and funk music in general, it doesn't get any better than this annual pairing of
AWB
and
Tower of Power
at the
Keswick Theater
. This year's concert was scheduled about a month earlier than usual (in 2006 it goes back to early April) and while the scheduling seems like a minor detail, the difference between winter and spring at this time of year seemed huge at the time. Both bands were in peak form, turning in sets that gave pure joy to the packed house on this the second of a two night stand. Here's my next morning post to the
AWB discussion board
.
It was another great show Saturday night at the Keswick. Both AWB and Tower of Power sounded as good as I've ever heard them, and AWB's song selection was absolutely perfect for the opening set length. The only thing missing from the set was anything from
Living in Colour
. The new jazzy version of "Work to Do" was neat, although the folks who complained that AWB went "smooth jazz" on
Living in Colour
are likely to have a field day with this. During "Cut the Cake" I was thinking about the fact that this song is thirty years old this year and still sounds as great as the day it was new - I remember playing it on the air during the summer of '75 when I was just a wee radio deejay.
Similarly, even though the TofP song catalog is loaded with cliche, many of the songs still sound as relevant now as when they were new ("Only So Much Oil," "What is Hip," "Diggin' on James Brown" etc.). Mike Finnigan, who's played with everyone from Jimi Hendrix to Crosby Stills & Nash, filled in very nicely on Hammond organ for Tower of Power's normal keyboard player, Roger Smith. Oh, and with apologies once again to James Brown, lead singer Larry Braggs is still the hardest working man in show business. Here's the setlist:
AWB
:
The Jugglers
Whatcha Gonna Do For Me
Oh Maceo (Fred killed as always)
A Love of Your Own
Walk on By (always great to hear this)
I'm the One
Cut the Cake
Cloudy (Klyde killed on this)
Work to Do (Nu Jazz Version w/Klyde on jazz guitar)
In the Beginning
Person to Person
Pick Up the Pieces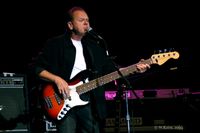 Alan Gorrie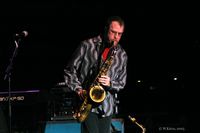 Fred Vigdor
Klyde Jones
Onnie McIntyre
Tower of Power
:
Oakland Stroke
Soul With a Capital S
Just Enough and Too Much
Only So Much Oil in the Ground
I Got to Groove
Willing to Learn (Larry Braggs killed on this)
Squibb Cakes Medley:
- Ain't Nothin' Stoppin' Us Now
- You Ought to be Havin' Fun
- Don't Change Horses (in the Middle of the Stream)
Diggin' on James Brown
(To Say the Least) You're the Most (nice Hammond solo)
So Very Hard to Go
What is Hip
Encore:
You're Still a Young Man
Funk Medley:
- You Got to Funkifize
- Down to the Nightclub (Bump City)
- This Time It's Real
- Knock Yourself Out (more great Hammond work)
Stephen "Doc" Kupka, Tom Politzer, Emilio Castillo
Larry Braggs, Adolpho Acosta, Mike Bogart