Ivy, WXPN Free at Noon Concert, World Cafe Live, Philadelphia, 3/11/05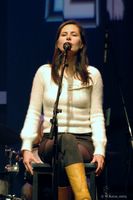 Dominique Durand
This Free at Noon booking was somewhat of a rare treat and not the least because Ivy hardly ever dents the WXPN playlist. Ivy is an occasional project of the husband and wife team of Andy Chase and Dominique Durand together with Adam Schlesinger from Fountains of Wayne. They were here this day to promote their new record,
In the Clear.
Although the music is entirely different from Schlesinger's other band, the songwriting and instrumental skills are at an equally high level and the success of
Welcome Interstate Managers
has likely brought some new curious listeners to Ivy's tent.
Adam Schlesinger
Having never seen Ivy before and having never heard the new album prior to the show, although the music and performance sounded fine, I was left with the impression that the band seemed kind of disinterested. Possibly because of the time of day or for other reasons that shall remain unknown, it seemed that they were somewhat going through the motions without much enthusiasm, even thought the concert was live on the radio and the live audience offered plenty of encouragement. (more to come)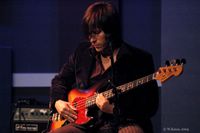 Andy Chase